When beginning your journey to developing your voice, have you ever wondered, "How long does it ACTUALLY take to get better at singing?".
I've reflected on this more after becoming a vocal coach and working in artist development.
When studying crafting processes, I looked at the lives of singers like Beyonce, Sam Smith and Adele in particular.
I noticed a development timeline that showed the first signs of growth are around the 3 year mark and peaks with the mastery of artistry at around 15 years!
Here is a snapshot of this artist development timeline.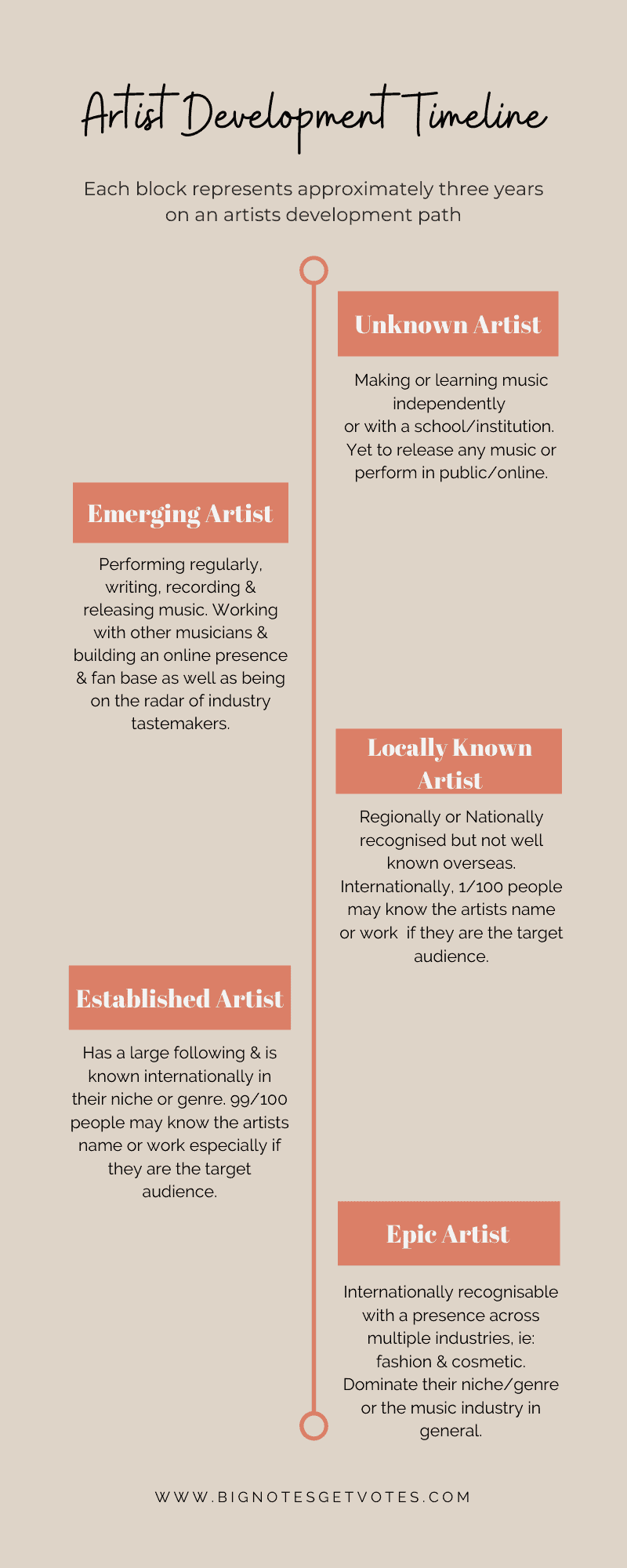 Now, this covers all aspects of becoming a music artist.
Songwriting, Instrumentation knowledge, music theory, collaboration process, learning how to perform in the studio and live.
This timeline is also is specific to when you are focussing on crafting as if you are studying for a university degree or working in a full time job. It may take you longer if your focus is part-time only.
But when it comes to getting better at singing, how long does it actually take?
I'd like to offer a couple of tips that may help you get an answer, set you up to start and even fast track your singing development path.
Watch the video to learn:
00:47 – Never Stop Learning!
01:21 – Vocal Development/Coaching Roadmap
04:35 – Vocal Development Timeframe
05:05 – Have Vocal Goals To Focus Your Practice
05:34 – Frequency And Length Of Practice Makes A Difference
10:30 – How Long Should You Practice?
10:40 – If You Have 5-15 Minutes To Practice
12:00 – If You Have 15-30 Minutes To Practice
14:05 – If You Have 30-60 Minutes To Practice
14:27 – How To Make Your Practice Effective
18:21 – How To Fast Track Getting Better At Singing
Never Stop Learning
I hope this goes without saying, but…you never stop training and developing your voice regardless of how long you have been singing. You need to have the long end game in mind.
When it comes to singing, it's very much a use it or lose it scenario!
I am in my 28th year of being a professional singer and I still get singing instruction and am continuously training as a vocal coach to stay up with the latest voice science, for my students but also for myself as a singer!
Use Your Vocal Goals To Focus Your Practice
Knowing what you want for your voice and getting clear on what you should focus on when practice is the first step. You can then focus on what needs the most attention first which often helps you to see improvements quickly. Learn how to set and smash your vocal goals.
How Long Should You Practice?
Depending how your vocal stamina is and where you are on your vocal development journey, a safe starting point for practice is 5-15 minutes daily. You can work up to 60 minutes of more intensive focussed practice 3-5 x per week.
If you only have 5-15 minutes available, prioritise your Daily Vocal Care Habits.
When you have more time, 15-60 minutes, you can follow my Practice Plan template for a step by step guide of how to create an effective practice plan.
How To Fast Track Getting Better At Singing
The best tools for fast tracking your vocal development are:
Do a

Video Performance Review

yourself and do this regularly. This will be a game changer!
Vocal Coaching! If you need feedback on your singing,

check out my video performance review coaching option

.
If you have a question about how long it takes to get better at singing, please let me know below.
I'd also love to hear what you have done to get better at singing and how long it's taken you!
Cherie