I'm hoping this post finds you relaxing & taking time out on this long Easter weekend.
Sunday sees daylight savings ending which means Autumn to me. Any seasonal change has me thinking about reviewing my routines & behaviours. Especially April & September. Getting to April I am reminded how little I have followed through with any New Years Resolutions I may have made! (although I'm doing better this year) & September reminds me of a new beginning with Summer around the corner. It usually also means some kind of fitness routine gets a kickstart!
This year is no different but I have learnt one important thing after having a successful goal setting year gone by: I can only do three things at once.
It's not really rocket science but if you think about how many things you try to pack into your day under the umbrella of even a perceived manageable to-do list it's mind boggling.
For example, you might split your to do list (I am a list/routine kind of person!) into Work, Home, Family. These are three things for sure. Under these banners come a million things & just in one day:
Work:
Email
Budget & accounts management
Contracts & Runsheets
Research & Project Planning
Home:
Cleaning
Managing kids schedules
Cooking/meal planning
Organising
Family/Friends:
Quality time with my kids, husband, extended family & friends
This is actually only the non 'me' related stuff.
My list of looking after myself includes creative planning, writing, study, singing practice, exercise, nutrition, grooming etc etc.
So what's my point?
Within all the many to dos in life, you have to find a way to look after yourself first & nurturing any activity that makes you smile has got to be at the top of the list.
Mine is DEFINATELY singing practice. Singing is my cardio, actually my HIIT (High Intensity Interval Training – get it??? ;0) although it really does get placed last on the list of things to do after looking after business & family.
I have tried to pull back on teaching, gigs, sessions & creative projects these past 3 months for study (4 days to go!!!!!) so I find myself ITCHING to get into my singing studio & bust out my practice & assignments. Especially when I review them regularly & have lots of new things to practice.
Last week I sent out a practice schedule as part of the Weekly Singing Tips & I hope everyone who subscribes (if you haven't – get to it! The box to the right of the page is begging you to!) had a go at getting a nice book to use as a singing journal for practice notes & songwriting or diarising thoughts.
I gave an outline for a practice session that looks like this:
5 mins – Journal/Formulate practice schedule
5 mins – Focus & Relax/Stretch/Posture Check
5 mins – Breathing Exercises
15 mins – Vocal Warm Up
10 mins – Technical exercises
15 mins – Genre specific song practice/performance
5 mins  – Listening
5 mins – Cool down/notes for journal/next practice/reflection
This week I am going to start going through each segment & outlining what you can add to develop your own practice session. I've just reviewed mine in a bid to shorten & invigorate my practices so will go into that too. It needs to fit it into these insane days we find ourselves navigating through & I am determined to put myself & my voice first & really want to bring you along for the ride! 
Like any goal, there needs to be little achievable markers & rewards along the way. I have decided to dedicate a Big Notes Get Votes YouTube channel to my videos for my practice dairies, technique & warm up vids plus general singing shenanigans which will include the songs I am tackling each week. I'll post a link as soon as I post my first intro vid. Consider one for yourself. You can keep it private (send me links though!) & it's an enforced performance opportunity. Disable comments if that makes you feel better!
Anywho, let's get that journal happening – here's my set up…..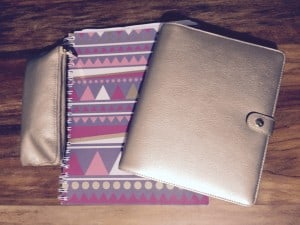 I'd love to see pics of yours & as always use #bignotesgetvotes if you are posting on any of the social medias – I'm @cheriemathieson on all of the usual suspects – Instagram, Twitter, Facebook etc
I really want you to embrace your love of singing daily. You don't have to be professional or have massive goals for vocal world domination. If you love to sing, JUST DO IT but make sure you sing smarter not harder, find yourself a good vocal coach & do some research on singing, or ask me & I'll help you out on either of those topics! I am currently on the look out for a vocal coach myself….. 
If you know of any one you want to recommend or have any thoughts or questions holler at me!! Post in the comments below or email me at cherie@bignotesgetvotes.com.
Now you just have to start & get that practice happening at least once or twice a week – we can manage that! 
Til next week, happy singing y'all.
Cherie xx