I love helping singers build confidence in their vocal ability, develop their performance skills & map out their own path within the modern music business.
Through in-person & online coaching, courses & workshops, my goal is to offer you a Singer's Toolkit. Using these tools, you will go from feeling frustrated at not being able to sing in the way you want, to feeling confident in your vocal ability & experience hitting every note with control, power & stamina.
Big Notes Get Votes is a community for passionate performers to be informed & get inspired. It's a hub to share singing tips, vocal style tricks, industry secrets & performance coaching.
When I first started singing 25 years ago, I had NO IDEA of what to do to look after my voice, how to make the sounds I wanted to (aka sing like Whitney Houston) or how to make a career out of my singing. Through MUCH trial & error, I have now done EVERYTHING you can do with your voice to make a living & coaching is my FAVE!
After 20 years of being a professional singer, I got an opportunity to teach at a local tertiary institution. I had no formal music training, but I did have years of on-the-job experience. I needed to find a way to articulate the techniques I was using when I was singing and performing.
Finding time while balancing life (I am also a Mum to two INCREDIBLE humans), gigging full-time and producing an all-consuming large scale live event was a challenge! I decided the best way was to study extramurally. I started with a music theory paper at Massey University, mainly to see if I could fit the learning process into my life! I managed to pass the paper but felt I needed more support & examples in the learning process so looked further afield & discovered the world of online training & programs.
I discovered the Berklee Online programmes & it blew my mind. Berklee Online offers contemporary music education delivered by fantastic lecturers who are at the top of their game. For example, my vocal coach is P!nk's keyboardist & backing vocalist! Combine that with a community of go-getter musicians, from Grammy award winners through to music enthusiasts all sharing a passion for learning more about our craft. I was hooked!
I achieved a Specialist Certificate in Voice Technique and Musicianship, plus have done an additional paper in Pop/Rock vocal styles.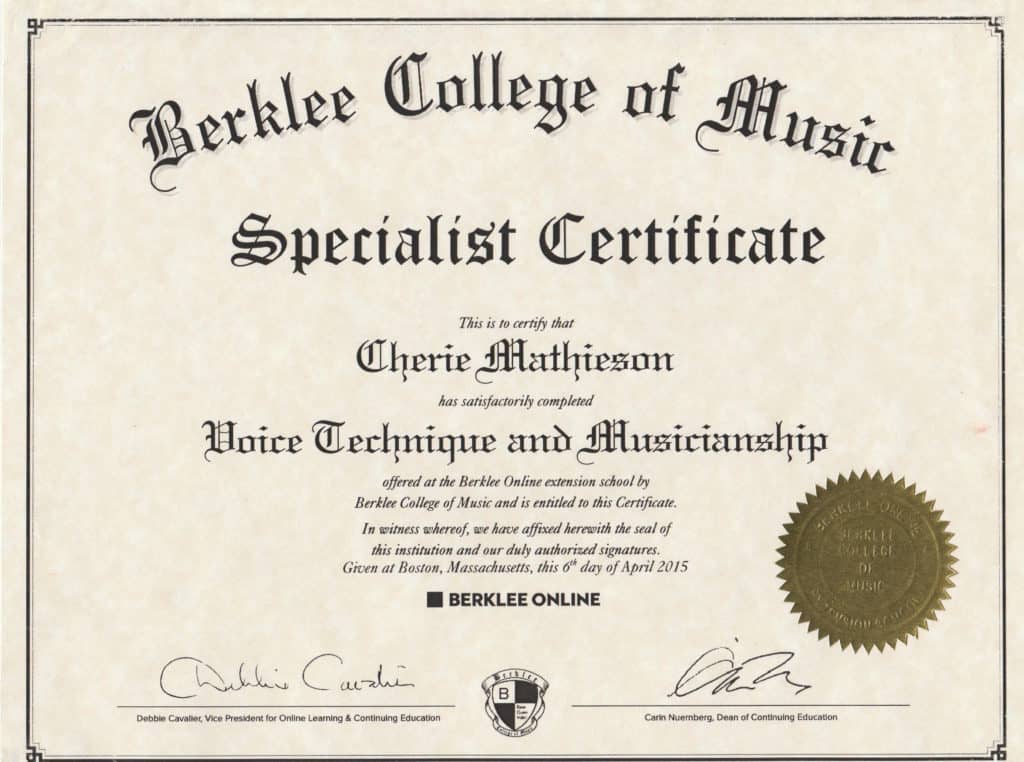 While working as a teacher & an event producer, I became aware of the lack of support artists have access to learn about looking after their vocal, physical, creative, business & mental well being.
It motivated me to create Big Notes Get Votes. An online platform (aka soapbox!) to share my hard-earned knowledge of navigating life & thriving as a singer both on & off stage. The power of learning at your own pace in your own way online is the way of the future!
Currently, immersed in the world of voice science through Estill Voice Training, I am still studying, & will NEVER stop. Vocal & performance coaching is my passion!
So, how can I help YOU to achieve your singing goals? Start here!
If you have any questions about getting started or how to work with me, email me at cherie@bignotesgetvotes.com.